May be available to your practice for DIRECT PURCHASE through

XYOSTED is only available for direct purchase to practitioners and practices
that may permissibly dispense this medication*
*In-office dispensing by physicians is only permissible in certain states and under certain circumstances. Antares Pharma cannot offer legal advice and recommends that you consult counsel or your state medical or pharmacy board as to the permissibility of in-office dispensing for your practice.
What is

?
XYOSTED Direct is a program from Antares Pharma for practices and practitioners that may permissibly dispense XYOSTED to purchase XYOSTED directly from the manufacturer and dispense to their patients from their offices, consistent with all applicable laws and regulations, and with all the support and assistance of STEADYCare.


Getting started is simple.
Complete the following form or Call 1-844-XYOSTED

A direct contract relationship that benefits
You, Your Patients, and Your Practice.
For practices with In-Office Dispensing privileges only
Many States Allow In-Office
Dispensing of XYOSTED.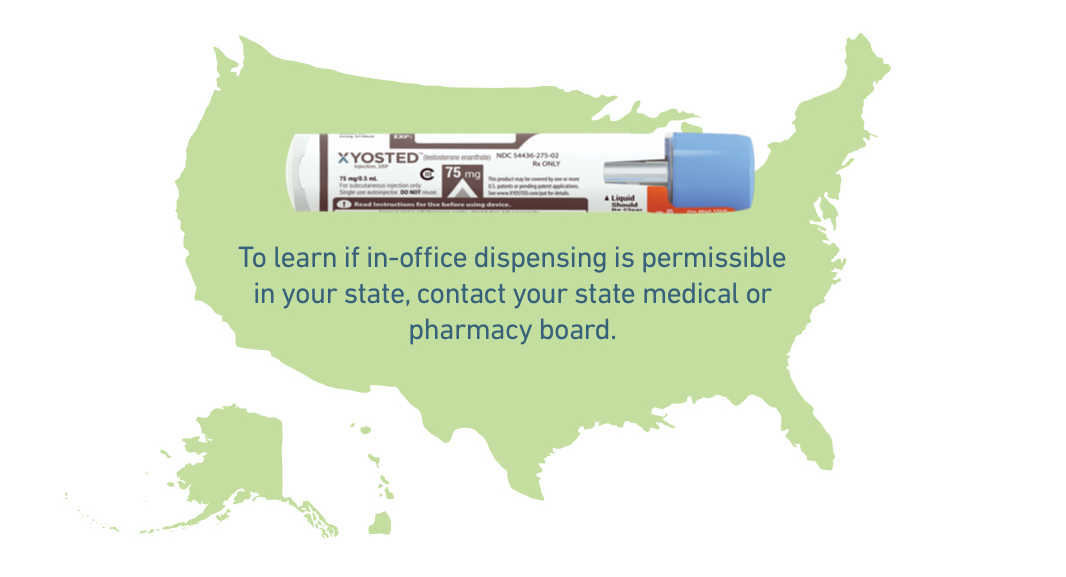 This information does not constitute a legal opinion. This represents information available at the time of publication. State dispensing regulations change frequently. Consult an attorney or your state medical or pharmacy board with specific questions or to verify your eligibility to dispense. Rules that govern dispensing for physician assistants and nurse practitioners vary from state to state, even in states where physicians may dispense. If you are unsure whether you or your staff may dispense in your state, please contact an attorney or your state medical or pharmacy board.
All the benefits of the STEADYCare program are still
available for XYOSTED Direct patients