Finally The Choice Is Simple
XYOSTED is a prescription medicine that contains testosterone enanthate. XYOSTED is used to treat adult males who have low or no testosterone due to certain medical conditions.

98.5%
of PK Study Completers* ACHIEVED PHYSIOLOGIC T LEVELS1†
99.4%
of Injections were reported to be Pain Free1

*Studied in 283 men
NO mess
LOW RISK OF transfeR
as compared to topical
* 150 patients entered the study; 137 completed 12 weeks of treatment.
† Defined as 300-1100 ng/dL.
Reference: 1. Data on File, Antares Pharma, Ewing, NJ.
Steady Levels Week After Week1,*
STEADY STATE IN 6 WEEKS...THEN MAINTAINED1 NO PATIENT HAD CMAX >1500 ng/dL AT WEEK 12 NARROW PEAK-TO-TROUGH RATIO OF 1.8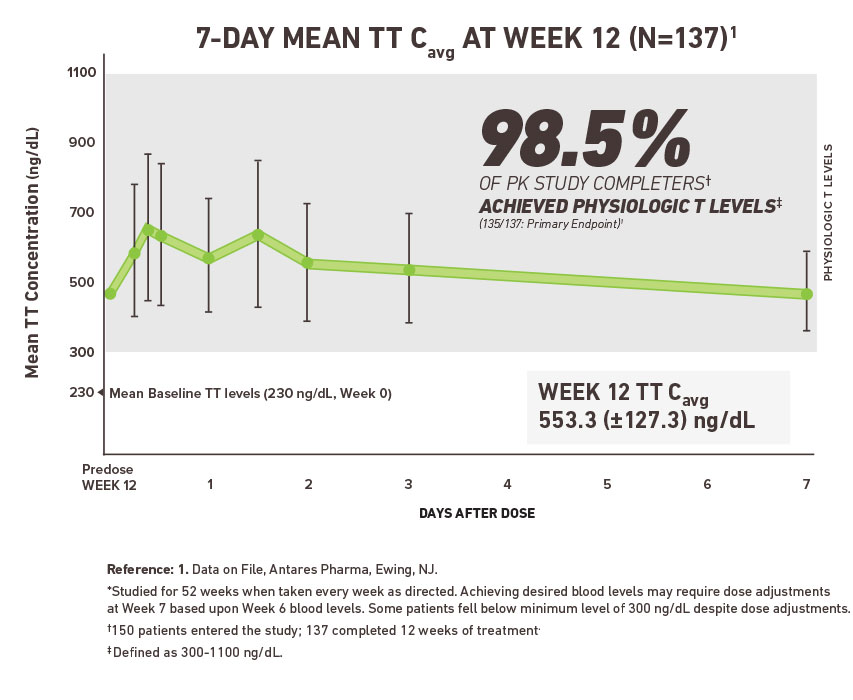 Fast and Virtually Pain Free1*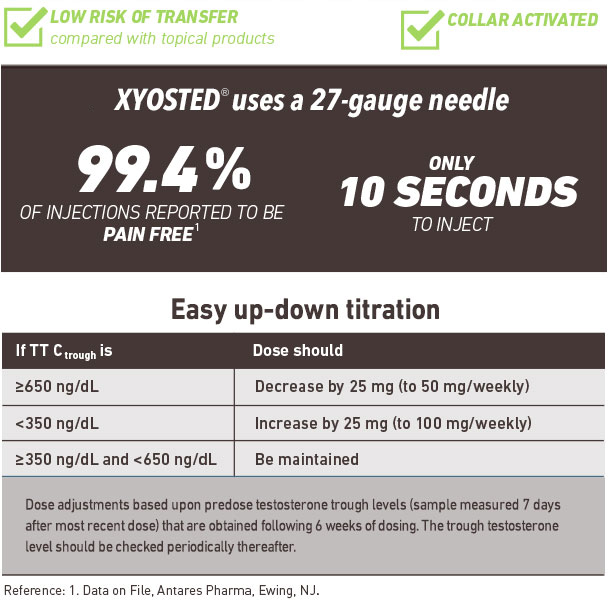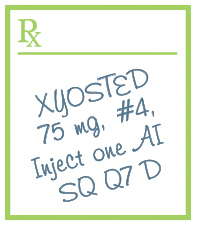 Once-weekly, fixed-dose accuracy
Available in 50 mg, 75 mg, and 100 mg weekly doses
Recommended starting dose of 75 mg/week
50% of study patients needed no dose adjustment*
$0 Co-Pay*
For Most Commercially insured patients
For more information on XYOSTED™ or how your patients can get access, please visit www.XYOSTED.com or call 1-844-XYOSTED
EVALUATED IN 283 MEN FOR UP TO 1 YEAR1
The most commonly reported adverse reactions (>1%) were: hematocrit increase (9.9%), prostate-specific antigen (PSA) increase (6.7%), injection site bruising (4.9%), injection site hemorrhage (3.9%), polycythemia (1.8%), injection site erythema (1.4%), blood testosterone increase (1.4%), injection site induration (1.1%), and prostatitis (1.1%).
* While waiting for insurance coverage verification and prior authorization appeals, the STEADYCare Injection Support Program can help patients get started on XYOSTED. Eligibility restrictions: Offer not valid for prescriptions reimbursed under any federal or state healthcare program, including Medicare, Medicaid, or any state medical assistance programs. Offer void where prohibited by law, taxed, or restricted. Offer only valid in the USA. Maximum benefit up to $125 for each prescription filled. Antares Pharma, Inc. reserves the right to rescind, revoke, or amend this offer at any time without notice. By using this co-pay card, you demonstrate that you understand and agree to comply with the terms and conditions of this offer as put forth on this co-pay assistance card.
Reference: 1. Data on File, Antares Pharma, Ewing, NJ