Has your doctor prescribed XYOSTED for you?

Don't have healthcare insurance?

Is your healthcare plan not covering XYOSTED?
Don't worry!
You're covered with the XYOSTED®4YOU program.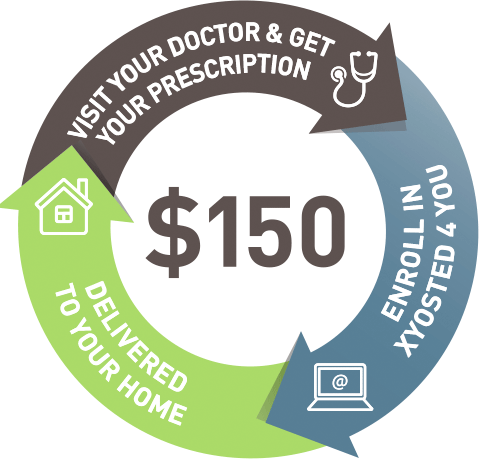 4 advantages of the Program
Affordable Even if you don't have health insurance, you can buy XYOSTED for $150/month if you have a prescription.

Convenience

​​​​​​XYOSTED will be ordered through vytal.care and delivered directly to your home
Quick and easy to enroll vytal.care platform is simple and intuitive—enrollment should only take a few minutes
Continual Support ​​​​​​After you apply, the platform reminds you when it's time to order your refill

What is the XYOSTED®4YOU Program?
At Antares Pharma we want to make sure that patients can access XYOSTED regardless of their health plan coverage.
XYOSTED® 4 YOU is a program designed for patients:
Who have been prescribed XYOSTED by their doctor.

Whose health insurance does not cover XYOSTED

Who do not have health insurance
Eligible patients* can buy XYOSTED for $150/month through the Vytal.care platform.
*Eligibility restrictions: Please visit XYOSTED.Vytal.Care for complete program details. Offer not valid for prescriptions reimbursed under any private insurance or any federal or state healthcare program, including Medicare, Medicaid, Tricare, or any state medical assistance programs. Cannot be combined with other offers. Offer void where prohibited by law, taxed, or restricted. Offer only valid in the USA. Antares Pharma, Inc. reserves the right to rescind, revoke, or amend this offer at any time without notice. By enrolling in this program, you demonstrate that you understand and agree to comply with the terms and conditions of this program as set forth in XYOSTED.Vytal.Care. Additional shipping charges may apply.
What is the vytal.care platform?
Medvantx is our specialty pharmacy partner whose platform called "Vytal.care" allows you to enroll in the XYOSTED®4YOU program. You just need to go to their website and make sure you register yourself and insert your prescription.
As an additional benefit, Vytal.care will deliver XYOSTED directly to your home.
© 2021 Antares Pharma, Inc. All rights reserved. XYOSTED® is a registered trademark of Antares Pharma, Inc. XYO-0123-01-21-03