About XYOSTED

XYOSTED is Available
in 3 Dose Strengths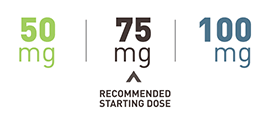 XYOSTED is a prescription medicine that contains testosterone enanthate.
XYOSTED is used to treat adult males who have low or no testosterone due to certain medical conditions.
Steady Levels
Of Testosterone*
In a clinical study, 98.5% of Patients Treated with XYOSTED achieved steady levels of testosterone.
Of the 150 hypogonadal male patients who entered a clinical study and received XYOSTED, 90% had an average serum total testosterone concentration within the normal range1 at week 12. Individual results may vary.
*Studied for 52 weeks when taken every week as directed. Achieving desired blood levels may require dose adjustments at Week 7 based upon Week 7 blood levels. Some patients fell below minimum level of 300ng/dL despite dose adjustments.
1 "Normal Range" is defined as 300-1,100 ng/dL
Virtually
Painless injections*
In a clinical study 99.4% of Injections were reported to be pain free
* Injection site reactions can occur, including: bruising, bleeding, redness, and hardness.
No Mess
LOW RISK OF TRANSFER
As compared to Topical
XYOSTED and IM injections dosing and administration
The efficacy and safety of each TRT has not been adequately compared in randomized, controlled clinical studies. For full information, see the full Prescribing Information for each TRT product.
TRT = Testosterone Replacement Therapy
1Data on File. XYO-0008. Antares Pharma, Inc.
* 150 hypogonadal male patients entered the study.
† Injection site reaction, including injection site bruising, injection site hemorrhage, injection site erythema and injection site induration were reported in 12.7% of clinical trial patients who received XYOSTED for up to one year. No patients discontinued XYOSTED because of injection site reactions.
‡ 99.4% of injections were reported to be pain free.